A good 'Dravet' friend of ours Rebecca had told us about a charity called Brainwave that works with children with neurological issues to create physical and mental development plans, her daughter, the gorgeous Neve has regular contact with Brainwave and it has really helped.
We got in touch with Brainwave and told them about Toby, his age and condition. They thought that the younger they work with children the stronger the impact so we booked a two day assessment session down in Somerset in mid October.
The two days cost over £500 which is only a fraction of the 'real' cost for Brainwave, they subsidise as much as they can but need the extra money to help with costs.
We were a little nervous going to Somerset due to the long drive and the risk of seizure so when we arrived in Bridgwater and Toby was safe we were very relieved.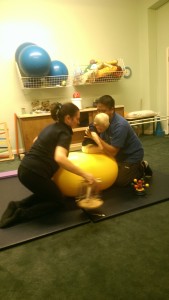 On the first day the two therapists took a medical history from us and assessed Toby via a questionnaire and by observing his play and activity. It came as no surprise to us that his gross motor (crawling, pulling himself up etc) and communication (enunciating different sounds) were around 1-2 months behind the norm. That doesn't sound a lot but as he's only 11 months old it's a fair chunk of his life!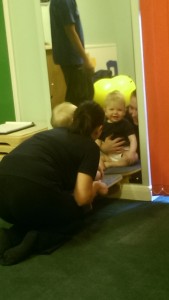 During the afternoon the therapists worked on a series of exercises designed to help Toby develop muscle memory, from kneeling to crawling to standing. They also worked on his hand-eye co-ordination and mental development and created a 30 minute programme for us to do every day with Toby.
We were also brave and took Toby for a session in the hydro therapy pool. This is a big thing for us as baths often trigger seizures for Toby so we were very nervous. He loved his time in the pool until he got too over excited and started having partial seizures, at that point we whipped him out quickly for fear of triggering a major seizure.
By the end of the first day we were all exhausted and collapsed into bed early.
The morning of the second day we spent learning the daily programme and how we, as his parents, needed to manipulate his limbs to build the muscle memory by balancing on wobble boards and inflatable balls to practicing kneeling and crawling.
In the afternoon we spent an hour in the sensory room which Toby absolutely loved. All the different lights, shapes and moving objects fascinated him and clearly stimulated his brain which was fantastic to see.
During the following days we've seen a rapid acceleration in Toby's development, he's learnt to pull himself up and stand, albeit a bit wobbly. We believe the two short days at Brainwave have done so much for Toby, it's amazing to see.
By donating to Toby's Trust you have helped to cover this cost and have made a direct and significant contribution to Toby's physical development, we cannot thank you enough.
If you would like to know more about Brainwave and the work they do please follow this link: http://www.brainwave.org.uk/how-you-can-help/