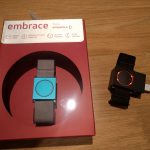 A good friend of ours found the Embrace watch on the crowdfunding website Indiegogo not long after Toby started to have seizures, it seemed like the miracle device we were searching for to help keep Toby safe and to alert us or carers when he had a seizure.
We pre-ordered them over 2 years ago so the wait has been long, they finally arrived on Monday and I've been playing with them since.
Thoughts so far…
The watch needs an active bluetooth connection to a smart phone which has the Alert and Mate apps on it to work so your little one needs to be in range of a phone at all times which I'm sure won't be too hard most of the time but might be difficult with schools.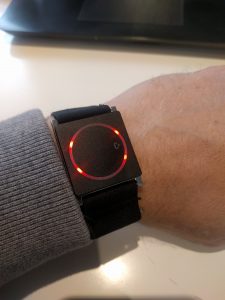 The apps are ok, a bit basic but clearly something they are working on developing. The Mate app has an activity tracker which shows your steps and seizures, you can manually add seizures in if the device doesn't pick them up. As you can see from the screenshots below of the Mate app Toby had 12 seizures while he was wearing the Embrace but it didn't alert for any of them. They were all short, under 10 seconds but he was convulsive so I was surprised they didn't trigger an alarm.
I have had a conversation with the Embrace support team about this and they've told me that only seizures longer than 20 seconds will trigger an alert, at the moment this is not configurable by the user which I find challenging as it means Toby will have dozens of seizures every day that won't be recorded.
We ordered 2 as they were meant to 'talk' to each other so a carer could wear one to be alerted in the event of a seizure – this feature is not available and I'm not sure it's going to happen soon.
How the Embrace works
Good question! The Empatica website is full of information about the sensors in the device which detect movement, temperature and electrodermal output but sadly there's no evidence of anything other than the movement sensors in the Mate app. I'm sure the hardware is built into the device but it seems the data is being 'hidden' and not shown in any of the apps.
For example, live temperature readings would be incredibly useful as it would help us medicate in the event of a fever however, at the moment, this data isn't available. Likewise heart rate would be a great indicator of a seizure but again this isn't accessible.
The Alert App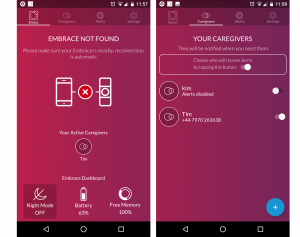 Once you have your watch and have downloaded the Alert app you sign into your account, the same one you created on the Empatica website to purchase the Embrace. The app will then help you pair the watch via Bluetooth (which was quite easy) and then you are up and going.
The Alert app will also tell you the status of the watch itself, battery and connection status.
The Alert app allows you to specify a number of 'care givers' which you can switch on and off depending on who is looking after your child, which seems good to me.
Once a seizure is detected the App sends a text, an email and a voice message to the nominated carer(s) which is great and worked well when I tested it by clapping.
The Mate App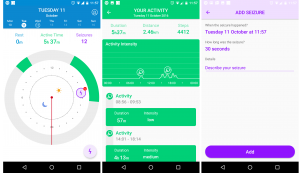 I feel like there is going to be a lot of development on this app over the coming months as it's reasonably basic but has the potential for a lot more.
At present it's basically a simple activity tracker showing when you're moving (it counts steps but I didn't test to see how accurate this is) and flags when seizures occur. If a seizure alert isn't triggered you can manually enter one so the data is there.
That's about it!
Data
One thing to bear in mind is that Empatica know a lot about you and your little ones, from names, dates of birth, addresses, phone numbers etc and that's before they start collecting lifestyle and seizure data, make sure you're comfortable with sharing everything before you sign up.
One thing I'm disappointed with is the inability to export the data or log into an account to see a consolidated view. At the moment the only way to view the data is by selecting the right day and having it on the screen of the Mate app.
Should you buy one?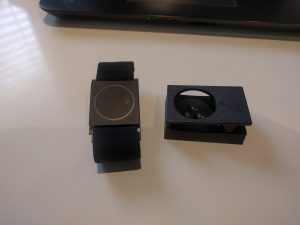 At the moment I feel like the watch is a glorified movement tracker and until some of the software is opened up and developed further it's a bit of simple device.
It's not going to work for Toby at the moment, he will have up to 100 small tonic clonic seizures per day and it isn't going to alert for the majority of them.
Everyone is different and seizures present differently, until the seizure alert parameters can be configured to an individual I don't think it's the amazing device that was promised to us but time will tell.