Since our last update it's been an emotional rollercoaster, I'll tell you why in chronological order as it demonstrates what we go through on a day by day basis. It's a long post, bear with me if you can.
Buggy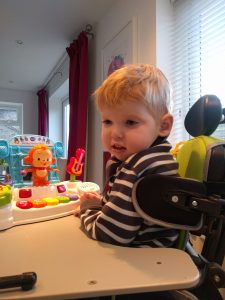 The first week started well with a great appointment with the team at wheelchair services who showed us a buggy that meets many of Toby's needs, not only does it support his torso so he won't slump it's also got a big storage compartment for his oxygen and drugs, it lies flat which is great when having to administer oxygen or give rescue breaths and best of all it's on a normal buggy frame which means it collapses down well and the seat can be front or rear facing, as well as having fairly large wheels that means we can keep doing our walks. We're very grateful to wheelchair services for showing us this buggy and ordering it for us.
Orthotics
Later that week however we had an orthotics appointment at the hospital, to be honest I'd got it wrong and thought it was an appointment to discuss Toby's posture and the problems with his legs bending in so Kim ducked out of work to come with me for which I'm very grateful. The session was actually to take plaster casts of his legs so that specialist plastic splints can be custom-made to fit him.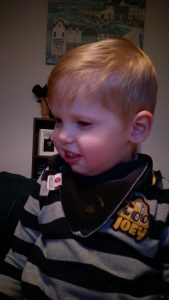 The session itself wasn't too bad and thankfully with both of us there, me to restrain him and Kim to provide the entertainment, we got through it fairly quickly however it was the realisation of what we were doing that really got to us. The splints are essentially a right angled piece of plastic that the foot sits on and it runs up the back of the leg to the back of the knee, it means the foot and ankle are held in the right place and can't move. That's the bit that really got to us, not being able to move his ankle means he'll probably not be able to crawl or pull himself to standing, that's going to be very tough to watch and frustrating for him. The idea is that it will pull his feet, ankles and knees to the right place to aid walking however they are that bad that there's a question mark over whether they will help at all.
Personally I don't think his core strength is there either yet so walking is a long way off, in which case we're going to have a very frustrated little boy on our hands.
I think this session was a real smack in the face that Toby's condition and capabilities are deteriorating in a lot of ways, it's emotionally really difficult when you feel the future is so bleak. It showed outwardly more this week as when people asked how we were the answer was 'it's been tough', which as Kim said at the time, that if we're saying that to people it must be tough as we always try to put a brave face on and be positive where we can but sometimes we just don't have the energy to do that.
Fortunately the week ended with a dose of what we needed, Kim had a night away at a spa with Ang from work and because we had carers in for a few hours respite I popped up to the Cowpers Oak for a quite pint. It was brilliant to catch up and have a drink with James, Jerry, Kev, Tim the landlord and Dave & Trish our neighbours. I can't begin to explain how a little slice of normality with some really lovely people is the perfect tonic for a rubbish week. Thanks everyone.
Respite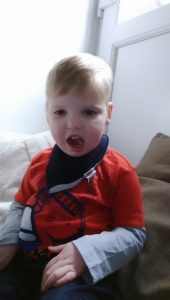 People are often surprised that Kim and I will always say we're lucky. Whilst life is tough we're lucky to have a hugely supportive community around us and get respite help too, we have a few hours on a Monday and Thursday which allows us to work and then go out together. We'll often be in the Swan for 'Thirsty Thursday' for a drink knowing Toby is being cared for by the ladies from Amegreen. It gives Kim and I time together to talk about Toby but also work, money, holidays, respite, the house and all the little things you need to keep on top of. We're lucky as those couple of hours together are probably a lot more than a lot of couples get and for that we're exceptionally grateful.
Our little and often respite means we keep our heads above the water most of the time and it's so valuable to us, it is strange getting to know new people when they're in your house but they're part of the family now and do such a great job of looking after Toby. It does mean that our house isn't ours anymore though. They go where Toby wants to go so if he wants to sit on our bed and read books that's where they are, on the bright side, I can't leave my pants on the floor anymore so the house is a lot tidier!
We had a flying visit from 'carer Claire' when she popped in one Saturday afternoon as the whole family were back visiting. Toby was clearly pleased to see her and it was great catching up on all her news, the card she sent afterwards really touched us. Thank you, Claire, your words mean a lot to us.
Out and About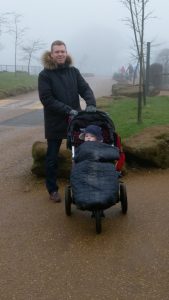 In the last update I'd said we were bored of the monotony of daily life caring for Toby, our little routine is great but we just don't do much as it's easier to be at home in an environment that Toby knows and likes.
Sometimes I wish I didn't write stuff down, Kim decided we needed to do something, and the first place on the list was the zoo.
Now, whilst our routine is dull, heart wrenching and safe all at the same time, like Toby, I'm secure in the knowledge of what we're doing, step out of the comfort zone? Not me guv'nor!
So, off to Whipsnade we went. It was a very grey, very cold day so wasn't too busy. Tobes was strapped into his buggy and off we went, walking around all the different animal enclosures.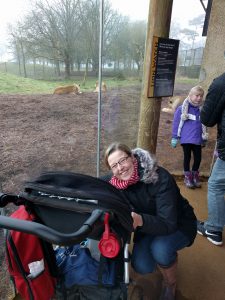 To be fair, Kim and I enjoyed it, Toby got quite bored and frustrated as he was stuck in the buggy for hours and wasn't aware of the animals but the important thing is we did it and we'll do it again. Hopefully if it's dry next time he can have a crawl around and he'll dislike it a little less.
The downside came when we needed to change him. For a busy visitor attraction with presumably hundreds of disabled visitors the toilet facilities were poor and not at all suitable for changing anybody larger than a small toddler.
Changing Places
As a big 3yr old he just about fit on the changing table in the kids bathroom however the disabled facility offered only a freezing cold, floor with dodgy puddles…That's what the future holds for Toby if he needs changing.
We hadn't really thought about this issue as we do use the changing tables a lot but this just isn't possible for bigger kids and adults and the only option is to change them on the floor, would you lie on the floor of a public toilet?
In most places defence, I don't think they set out to create a poor environment, they get told to put a disabled toilet in so they do, the problem is the perception of what a disabled changing facility is. It's more than a low toilet and sink with grab handles and space to turn a wheelchair.
What we need to do is encourage people to get behind http://www.changing-places.org/ which campaigns for fully inclusive changing places.
One thing you can do to help right now is sign this petition https://petition.parliament.uk/petitions/177423 to get the matter of changing places discussed in parliament.
I know it's a pain and clicking that button means you have to put your details somewhere which will take a few seconds but I'll ask you that question again, would you lie on the floor of a public toilet?
Planning Permission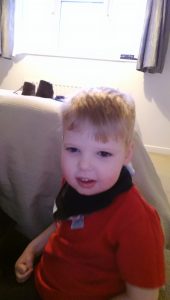 We got the very good news that Milton Keynes Planning Department has granted us permission to extend out the front of our house. Front extensions are always contentious as it impacts on the street scene so we had put in provisional plans for a decision in principle which were turned down.
Thanks to the amazing support of our neighbours, friends, town council, local councillor, doctor, OT and social worker who all wrote letters of support for the plans the planners felt there were no grounds to reject which is just the best news we could have received.
Now the hard work begins of understanding the grant process, getting quotes, understanding VAT exemption and then the build itself. It's all an elephant of a task but the end result will be a big porch with a lift so no more carrying Toby upstairs, a downstairs wetroom and an adapted bedroom with hoists and slings to move Toby from his bed and into an ensuite.
Without the funds you've donated to Toby's Trust we couldn't even contemplate building an extension to house with the equipment we need but thanks to you we can. Words do not begin to describe how lucky and grateful we are to have your support.
Helen House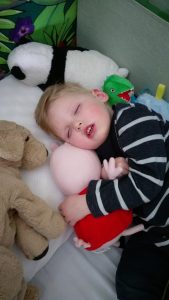 At the start of half term we'd booked a couple of nights in Helen House so after saying hi to everyone we left Toby in their brilliant care and headed off to Charlbury in the Cotswolds.
We'd found a fantastic 'cabin' on Airbnb and loved the little village with great pubs and some lovely walking around the countryside, despite the weather we had a fantastic time out exploring the fields and woods and it was brilliant for the mind, body and soul.
Half term & Food
Like many parents we're very lucky that Toby's grandparents help us a lot by spending time caring for Toby so we don't have to take time off work, they get some Toby time and he gets to spend time with his favourite people which is a win-win however it was a tough week.
Toby had a cold or something brewing which left him weak, miserable and lacking in that gorgeous smile, after the high of being free and enjoying life in the Cotswolds at the weekend it was really hard hearing Toby so upset all week.
Having him at home did give us the opportunity to increase the amount of 'blended diet' we gave him, lots of real food blended to a pulp and manually pushed through his tube straight into his tummy. It's a lot harder work but straight away the benefits are obvious, his bowels are a lot healthier after a lot of veg and lentils!
We're finding it easier to work out what to feed him too which is good as the more research I do into the form of 'formula milk' we 'have to' give him the more we are committed to feeding it to him as little as possible.
The current formula prescribed by all dieticians is scarily full of sugar, corn syrup to be precise, the same sort of 'free sugar' that it in coke, a litre of coke. Do you let your kids have a litre of coke every day?
Watching this video it's scary to see what a physical impact this formula has on a person so the less we can give him the better in our view.
Sadly, we ended half term drained, both physically and emotionally, it's the feeling of being helpless in a hopeless situation.
Social life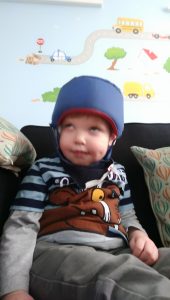 Despite life being tough we're getting used to how it is and are planning and doing more things. Last weekend we had a table booked at the Cowpers Oak, our local pub, for Jerry's Tapas night with friends. Having had such a draining week, both physically and emotionally, it was sadly too much for Kim and she couldn't put a brave face on and go out and be sociable.
We find this tough as we are sociable folk but sometimes it's too much and we just can't face it, fortunately our friends are caring and understanding and even brought flowers round during the week for Kim. That means a lot.
We also managed Sunday lunch with friends while Granny Gill watched over a sleeping Toby, the beef was as good as the company, thanks Jo & Rich
Back to school
Tobes has clearly missed school and all the different things they do with him and it's a real joy to see him crawl off in the class to play with his favourite toys with the great team of ladies that look after him. Sadly on Wednesday we found out that one of Toby's class mates had passed away the day before.
It's a very real reminder that the Redway is a different kind of school, the kids there are often very poorly and need a lot of help, we know of other children that have died since Toby has been there but to be one of only eight in Toby's class was a real shock.
As ever they worked him hard last so by Friday he was exhausted, but in a good way.
Sadly though both Kim and I have been poorly, Kim with a sickness bug and me with Advanced Stage 2 Man-flu. Everyone gets ill but it makes getting through the days and weeks that little bit harder.
Generosity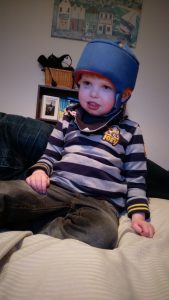 As the month closes, we've had enough but still the little, and not so little, things that people do for us really brighten our day.
Olney is renowned as the home of the Pancake Race, an annual event that sees ladies dashing down the high street tossing pancakes. This year Samantha has entered and is collecting sponsorship for Toby's Trust and has already smashed her target. Thank you Samantha and good luck tomorrow!
A couple of summers ago (where does the time go??) local nice guy Ian set up an auction for Toby's Trust and one of the items donated as a painting by local artist Ed Robinson. As well as being a really lovely bloke and neighbour, Ed is an internationally renowned artist, his paintings are amazing and sell for thousands.
Although he's generously donated one of his paintings already he's now painted a unique picture of a rugby line out at the Saint's and is exhibiting the work before auctioning off, for Toby's Trust. We are blown away by the incredible amount of thought and effort he is going to for our little boy.
A huge thank you to Kim's sister, Karen, who regularly sends us cards and gifts to brighten our days. This week we got a gift voucher for an M&S meal for two. She knows us so well. Food will always put a smile on our faces!
Thank you
The amount of support we get from you is incredible, big financial gestures, meals, flowers, cards, comments on Facebook, it all keeps are heads above water and when we do start to sink it's the life jacket that keeps us afloat and I really can't begin to thank you enough for everything you all do for all of us.