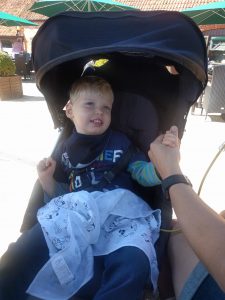 I'm going to start this update with thanks, thanks to all of you who read this and support us in so many ways.
Toby's all terrain buggy is suffering with overuse and about to give up carrying him, his oxygen and rescue meds but thanks to your generosity we have Toby's Trust to turn to for the purchase of a new off roader. Those of you that know us and see us out and about know how important it is for us to get outdoors as a family, and as Toby can't walk the buggy is vital in enabling us to do this. We're often out across fields and down by the river so we need something that will take his increasing weight, provide sufficient support for his poor posture and cope with being off-road. Unfortunately as Toby is quite a big fella he's grown out of the standard buggies and requires a specialist buggy. The good thing about this is that it will give him the support he needs and ensure he's safe and secure, the bad thing is it costs thousands.
Thanks to you we haven't got the added stress of finding the money to pay for it. We are incredibly fortunate to be able to buy it with funds raised for Toby's Trust by our family, friends and our community and we can get something that meets Toby's needs and keeps us all out in the fresh air.
Thank you to everyone who's done so much for us in the past, those that donate regularly, more recently pushed envelopes of cash through the door (Peak Performance) and are training for big runs, Jane & Sam. Thank you from the bottom of our hearts.
Seizures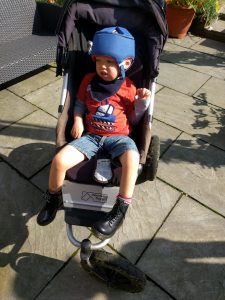 Sadly, Toby's longer, fully convulsive ones are increasing in frequency and duration, over the last week he's had a least one, if not two, every day. It's hard to explain how tiring and upsetting these are for him and everyone who cares for him.
When Toby was under one he used to have a big seizure every 7-10 days, they often lasted over an hour, it was horrific and terrifying and usually involved a high speed ambulance to resus in hospital. At the time we used to see Dravet parents posting about 5min seizures and we'd wish Toby's seizures were 'only' five minutes long.
Now we understand that all fully convulsive tonic clonic seizures have a devastating impact on Toby and us, no matter how long they are. Toby now typically has 1-4mins seizures almost daily and it's horrible. You never know how long they will last and how violent they will be, so you are always on high alert and always have to react by timing the seizure, providing oxygen (turning the tanks on is a nightmare when you're stressed) and providing rescue breaths if he's stopped breathing. Recently he has started being sick as he comes out of the seizure, straight into the oxygen mask so there's a risk of breathing the sick into his lungs, and adds the complexity of having an unconscious child covered in sick to deal with. He's then unconscious for 45mins or so while his body and brain tries to recover, he wakes up irritable, in pain and weak, this lasts for days, or it would but another one gets him and knocks him further down.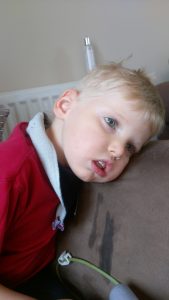 I remember an epileptic adult telling me that when they had a seizure it could take a couple of weeks to properly recover, Toby isn't even getting a couple of days.
His muscle tone is still low and seizures knocking him out don't help as he's too wobbly to stand the next day so doesn't, he's tired and can't do as much as his brain literally hurts, it's a vicious cycle.
And then there's the impact on us, it's heart breaking both emotionally and physically. Our bodies are pumped with adrenaline and cortisol then we come crashing down, it physically hurts it's that tiring.
People often ask how Toby is and it's such a difficult question to answer, he might be having a good few hours and share that fantastic smile of his, which is lovely to focus on but we still have to live with the fact that he can't talk, walk or eat and developmentally he's only a six month old and probably won't ever grow up, he'll be like our own Peter Pan but will physically get bigger and harder to manage, particularly as the frustration grows.
That's a tough thing to think about, the future and not something we dwell on for long.
Ground Hog Day
The big downside of Toby's developmental delay is that his play and activities don't move on. He still likes the same few DVD's, he doesn't grow out of toys and books and he doesn't take to new ones easily. He can't go out and play as other kids his age do.
As such it makes it particularly tiring looking after him and over the school holiday it can drag, we're very lucky that our parents and his carers and nurses help to look after Toby and do such a fabulous job, even though it's tough on them too.
Great Ormond Street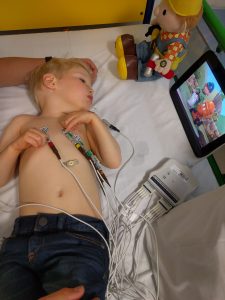 Last week we were back in GOSH for the start of a trial for a new drug, Fenfluramine which is being trialled in patients with Dravet as if there's even a small impact in Dravet then it could be brilliant for lots of other types of epilepsy.
We're very lucky to be under GOSH and being considered for this trial but it's a long road.
It was a full day a GOSH with EEG's heart echo and lots (and I mean lots!) of blood being taken, forms being filled in and briefings given.
It's then a six week period of assessment to see if Toby is eligible for the trial, if he is we then have a randomisation process and he starts, he may be on the drug, he may be on a placebo.
The trial lasts for six months, at which point we'll find out if he's on the placebo, if he is we'll potentially be offered the drug which we'll need to wean him onto over three months.
Potentially it could be just under a year from that day in GOSH till we see if this drug will help Toby. It's a long, long haul.
*edit: I wrote this on Wednesday evening but received a call from Professor Helen Cross yesterday saying that the company behind the fenfluramine trial have rejected Toby from the trial for a number of reasons including a 'trivial' leak from his heart (so minor GOSH don't want to monitor it) and his Gamma GT (a liver enzyme is too high.) It's been high for years but it's too much for the clinical trial. We're obviously very disappointed but Prof Cross is looking at options for 'treating' the high Gamma GT and is going to see Toby in a few weeks time to discuss the potential of going on an open label trial of the CBD (cannabis based) drug.
Looking ahead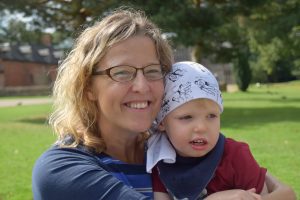 From this weekend Toby is booked into Helen House and we're going away for a break. The last four months have been relentless and we're both physically and emotionally empty. We desperately need a few days away to help recharge the batteries and spend some quality time together keeping our relationship strong. I've had tonsillitis for nearly three weeks now which means Kim and our parents has been picking up more than their fair share and it taken its toll. Fingers crossed Toby has a good stay and we get to be ourselves for a short time with no cortisol coursing through our veins, just red wine and gin!
Thanks again for everything you do for us, you are amazing and the only thing that keeps us sane, all of you.
Tim, Kim and Toby x