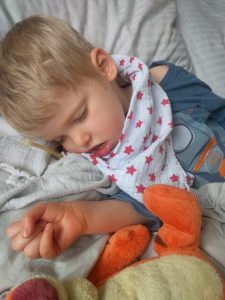 I really don't know where to start with this month's update, so much has happened and so many people have been incredibly kind and generous.
Let's start with the not so great stuff, for the last week and a bit Toby's had a really bad cold and chest infection, he's been more poorly than we've ever seen him, sleeping all day, snotty, looking terrible and a dreaded temperature so a massive increase in seizures. Fortunately he's coming out the other side of it now and should be back at school next week. It's amazing really that these are the first days off school he's ever had, not bad considering he's been there a year and a half with all his complexities!
When Toby was at his worst both seizure and illness wise we all had the dreadful news that a little three year old girl had lost her fight with Dravet and just didn't wake up one morning. We're obviously devastated for the family and it really scared us both, especially with Toby so poorly. It's so sad, especially at this time of year but seems to happen every Christmas that another little one leaves a devastated family behind. I reacted with an emotional Facebook post which probably was a bit of a cry for help and attention. Within hours various friends, family and neighbours had delivered meals, hugs and kind words.
To all of you, thank you. Can't tell you how much it means to us to have that love directed at us.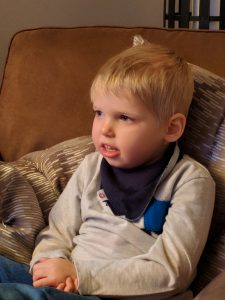 Coffee Morning
We're continuously amazed by how many people think about and do things for our little boy, the team at Jane Smith Financial Planning once again ran their coffee morning and raised over £530 and it was lovely to be able to take Toby along for a short while and we thoroughly enjoyed some delicious cake.
The Brocks
We're very lucky to know the Brock family in Olney and they do so much for us, special mention to Seb, Louie, Hattie and little Elsie for holding a garage sale a few weeks ago and giving some of the proceeds to Toby. Today is the annual 'Dickens Day' in Olney, the whole town becomes a street market with a (vague!) Dickensian Christmas theme, once again all the Brock kids have a stall outside their house selling hot soup and cakes for Toby.
They're really lovely kids and genuinely love doing things for others, we're very proud to call them all our friends.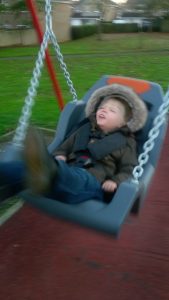 Swing
A few weeks back Kim emailed Naomi (Brock) to ask if she knew anyone at the council that could help us get a swing in the town that was suitable for Toby. Toby loves the swings but due to his size and low muscle tone and control it's very difficult to use a standard toddler's swing and is even more difficult when he starts seizing. Within two days Naomi had contacted the council about options and agreed to find the funding for the swing so set up a JustGiving page.
Within a few days the £1000 target was smashed, and the swing was ordered.
It was delivered and installed by the council and we've used it several times.
Sadly the first time Toby had a longer than normal seizure in the swing but the beauty of it is that he can stay in it whilst having a seizure and be safe.
It's an incredible bit of kit that's an asset to the town (we've already seen other kids playing on it which is brilliant) and we're incredibly grateful to every single person who donated to the JustGiving page but especially to Naomi for making it all happen, she's a super star.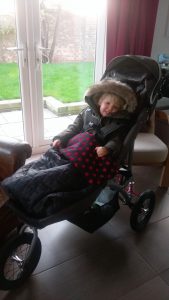 Buggy
We've also taken delivery of a new buggy for Toby, he's grown out of his old one and as he's a big lump we had to buy a special needs one. These don't come cheap but thanks to Kim's cousin Jane and her son Sam who ran a 10k for Tobes we could order it and have it delivered the next day.
It does everything we need it to and has along us to continue to head out over the fields.
Pants!
Toby has a new physio who is brilliant and has been very busy sorting lots of new things for us to try to help Toby to walk. One of these is a pair of corrective pants, well, more like cycling shorts but pants sounds better!
They're made from heavy duty lycra and will help support his posture and provide feedback on what he should be doing. Pam the physio is currently looking at funding but thanks to you we know we have the option of buying them to give them a go if we need to, at £600 a pair they don't come cheap but if they work……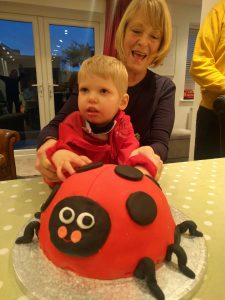 Birthday
Obviously the big thing for us in November was Toby's birthday!
Sadly he's no understanding of birthdays, treats, presents and of course cake but we still had a small family party, drank some fizz and ate the wonderful cake Kim made for him.
It's always a difficult time as he should be so excited and happy like other children but it all passes him by, he doesn't like opening presents, certainly not playing with the toys or reading the new books and it can be difficult to see him overwhelmed by the fuss.
He did good, got some lovely presents and cards and above all we know how loved he is.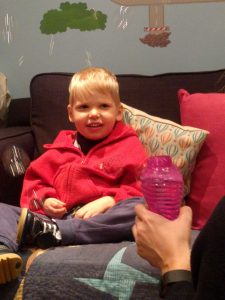 Finally
I know the last update was late and brief, it really surprised me how many of you got in touch to see how things were as I hadn't written anything and it's always a shock that you all do read these updated.
Thanks so much for letting us be a part of your busy lives, for thinking of us and Toby with your words and actions. There's been a huge amount of generosity shown to us which eases the daily ups and downs so much, we can buy expensive pants if we think it will help because you've donated in some way to Toby's Trust, I can't tell you what that means to us, it's huge.
It feels like that time of year is definitely creeping up on us so we'd all like to take the opportunity for to thank you for sticking with us and being so lovely and of course to wish you a very Merry Christmas and a Happy New Year.
Tim, Kim and of course….Toby.