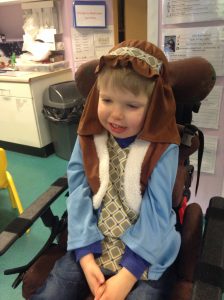 Happy New Year to you and all your family, once again, thanks for keeping up with us over the last year, it's great to know you're there.
Dare I say it but December has been a great month for Tobes which considering how ill he was at the end of November when he was off school for a week and Kim had to cancel a weekend away as she was so worried about him, it feels like a miracle.
The first weekend in December we had our final stay of the year at Helen House booked but as we were leaving home one of the Doctors called us to say that we'd only be able to stay one night as they had emergency admissions. We had to cancel our plans to see friends but when this happens we know it's because other families are in a far worse position than us, two children it turns out needed end of life care, a very sobering thought.
As it turned out getting home on the Saturday before Snowmageddon on the Sunday was a good thing, we did not want to be driving for hours in that!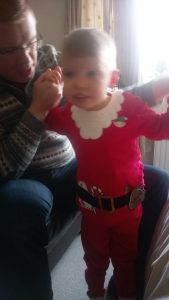 Toby seems to have got brighter and brighter each day, we suspect down to the reduction in Sodium Valproate (Epilim as some of you will know it), and interacting through sounds and movement so much more. Over the last few days he's been a proper cheeky little boy, climbing over us, chatting, cruising on the furniture and throwing the odd tantrum, it's lovely to see.
Yes he's still had big seizures and they've been scary and got the heart racing but it's the bits in between that have more than made up for them.
Night away
We never thought it would happen but Kim and I both made it to my company Christmas do, leaving Toby overnight in the very capable hands of his Nanna & Grandpa and respite nurse Laura who slept over with Toby, it's a first for us and hopefully something we'll be able to repeat in 2018.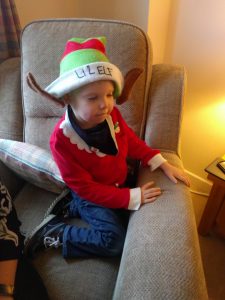 Christmas card donations
So many people have made donations to Toby's Trust in lieu of sending Christmas cards, thank you to Jan, Helen, Gerald, Colin, Samantha, Lesley, Maura, Ann you are all very kind and we are incredibly grateful.
Once again, thank you so much for your support this year, it means so much to us all.