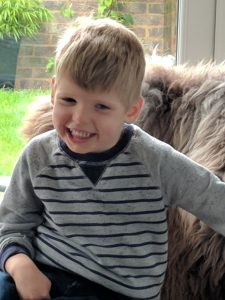 The start of August was terrible for Toby seizure wise, he was having one, two or even three fully convulsive seizures a day which creates a downward spiral as he gets over tired and can't cope the next day so the cycle continues.
He was at the play scheme at school for the first week and there was lots of swimming and fun to be had, which is great but obviously too much for his little brain, every day we picked him up to be told he'd had another seizure in the pool. Dangerous for him and stressful for the team at school who'd volunteered to staff the two weeks for the kids.
On the 2nd August we saw Prof Cross in Great Ormond Street and went through the protocols for a new drug, Potassium Bromide, that we were aware of as a treatment for Dravet in Japan (thanks to Karen for all the research on that one!) and wanted to try it. GOSH had never prescribed it so we had to go through a lot to even get it then it turned out they couldn't release it to us so it ended up being posted out to us.
We started the new drug a couple of days before we went on holiday and whether it was the drug, the change in environment, being on holiday or just the seaside, Toby's seizures improved massively.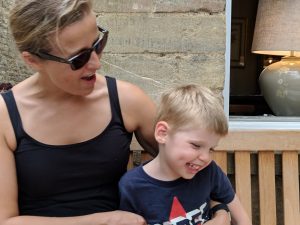 From a least one big seizure per day he went to having only one all week! It was great seeing his brain heal and the amount of things he could do increases the longer he was seizure free. Sadly the spell was broken within five minutes of being home as he had a seizure in bed as soon as we put him down for a nap and then went back to one a day after that.
Clearly the cure for Dravet is living by the seaside on permanent holiday, we can make that work, can't we?
We had a great break together on Mersea Island in a caravan lent to us by family friends. I'll be honest, a week in a caravan with Toby didn't sound great on paper but it was amazing and we're so grateful to Carol & Derek for the generous use of their beautiful holiday home, everything about it surpassed expectations. We had a wonderful week.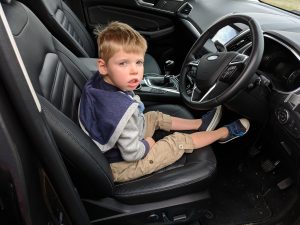 The only downside all week was sleep. For the whole week, and those following, Toby was awake and bouncing from 0430-0515 each day. It's like having a new born again, exhausting!
We blame the new drug but who knows really. The Doctors at GOSH think it should cause drowsiness but we think otherwise. We've switched his dose to the evening and will see (and hope!) that it makes a difference to how long he sleeps.
Normal Weekend
On the bank holiday weekend we met up with Chris and Rachel, Kim's brother and sister in law who were camping not far away as part of a Sealed Knot re-enactment weekend.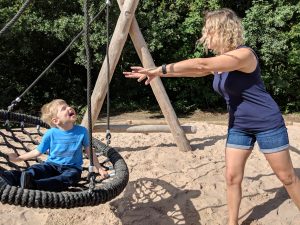 We went over in the morning and they'd been really thoughtful about creating a space for Tobes in the event of a seizure and had laid out some sheepskins on the floor for him to play on. We said he'd never stay on them but as ever he proved us totally wrong by spending a very happy hour and a half 'swimming' on the fleeces and taking great delight in biting it and ending up with mouthfuls of wool, much to my horror and dismay. My OCD doesn't cope with stuff like that!
We then went to the café at Claydon House and had a lovely lunch together, it was quite emotional buying a sandwich for Toby for his lunch so he could eat it with us, which he did with great gusto. It's less than six months since he started eating again and whilst it's normal now it's still a big thing for us.
After getting home later than planned (as we were having such a lovely time, it's good to let go of routine sometimes….) and a nap we took Toby up to the Brocks for a couple of hours of fun and mayhem with dogs, kids and lots going on.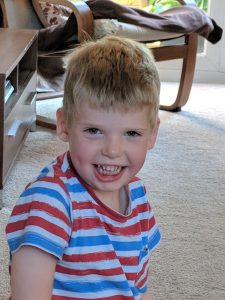 It was such a normal day, doing things as a family, being with other people and not being too constrained however it was amazing for all those reasons, we don't get to do normal very often.
Help
The summer holiday last year was beyond tough, it's a long time for Toby to be at home and for the people who help us get through the days. However this year we were much more organised and made sure we had plans in place to break it up. We were very lucky that he got five days on the summer play scheme at school thanks to a lot of staff who give up their time to run it. It really is brilliant and he loved being there.
We've also had a lot of respite hours from 'Team Toby' from Amegreen who taken Toby out and about around town and even to the Riverside Hub for a day out. They're all fantastic and we're very fortunate that they're in our corner. Likewise for Laura who's spent whole days with Tobes having fun in the park and meeting up with her family.
Massive thanks as ever though to Toby's grandparents who've given up loads of time to look after him so Kim and I can both work through the holidays. They pour so much effort and love into him and we're truly grateful as it isn't always the case with some children like Toby.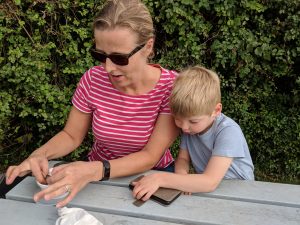 The summer holiday is drawing to an end now and it's been good but we're all looking forward to Toby going back to school, for one day, then we're back to GOSH to review Toby's bloods a month into the new drug.
Thanks as ever for reading, commenting and getting in touch, it makes us feel less isolated and connected to the world.