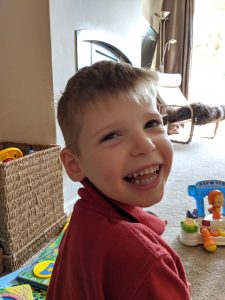 I know it's late again but it's been a busy week since the end of May as Tobes has been in hospital for an operation but more of that next month…
May saw several firsts, not all of them good.
As you pull into Toby's school there's the usual parking spaces but also a special one, for ambulances, they are there that often they have their own VIP parking space. It's always been in the back of my mind that one day Toby would be in said ambulance and a few weeks ago that happened.
After a couple of violent seizures at lunch time (with a mouthful of food, terrifying), school called Kim at work to ask her to collect Toby, she dropped everything and rushed to school to find Tobes in a bad way. He had been in constant seizure for more than 20 mins and had a temp of 39, it was pretty mild at first but then turned violent, at this point they called an ambulance who arrived in minutes thankfully, due to the school being next to the hospital. I got there shortly after and it wasn't long before we were in hospital.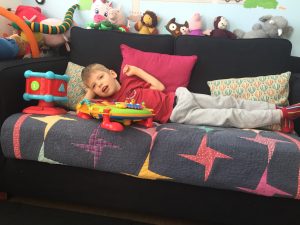 Firstly, we need to give a massive shout out to all the folk at Redway School, they go above and beyond what any teacher or teaching assistant should have to do and we think they're pretty amazing for it. When it comes to emergency situations, they are all fabulous and do everything they can. We love you and are so grateful.
Long story short but we ended up in hospital, Tobes didn't have any more seizures and after 5hrs we escaped and came home. In part due to the fact that our favourite consultant Dr Oommen was on duty, he's the guy that had suspicions of Dravet when Toby was tiny and got the genetic test done, knowing it was Dravet accelerated our understanding of the condition, what drugs he needed and what the future held. We owe him a lot and, he's a really nice guy, first thing he did when seeing Kim on the ward was give her a hug, he's that kind of lovely doctor he is.
It's the first ambulance from school, it won't be the last, I'm sure, and it was a just a 'bad' day and not the start of a recurring pattern…..so far.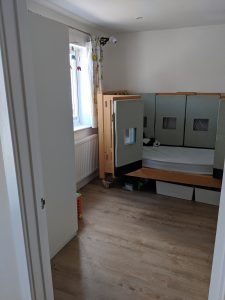 Another 'first' was during Toby's annual Education and Healthcare Plan (ECP) meeting where Kim and his teachers discussed issues, opportunities and targets. Now, I'm not going to lie to you, he's never going to get an A in French or maths but quite frankly as long as he's alive and happy, that's all we want.
Saying that, it was a bit of shock to me that they talked about Toby showing some signs of autism.
Now, we've always known it's one of the many complexities of Dravet and have suspected it for some time, he's still playing with toys he had as a one year old and plays with them obsessively but still it was a little bit of a shock to realise other people see it him too.
It doesn't change him, it's what makes Toby Toby and we love him because of it but the first time someone else mentions it is a bit of a moment.
The other big first is that Toby's 'wing' is almost (still snags!) finished, enough so that he could move in! He had his first (second, third, fourth….) night in his new bedroom and have been enjoying his new bath loads.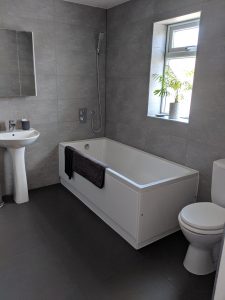 It's made a massive difference to us already, we're not carrying him up and down stairs, it's really easy to get him into the bathroom and then when it comes to bath time there's so much space. All really useful when he has a seizure and that space is need to 'deal' with the situation.
It was lovely to see him with his Aunty Karen reading bedtime books in his new room when she visited. They looked so happy together.
Many of you reading this has donated to Toby's trust in some form over the years and this is our opportunity to say thank you. As well as a grant from the council we used the money in Toby's Trust to create this space for him and it's transforming all of our lives, thank you doesn't come close to saying how grateful we are for making our lives that little bit easier but still, THANK YOU!
Sadly Toby's been having longer, more frequent seizures through May, sometime lasting well over twenty minutes which is pretty scary. As always his timing leaves something to be desired.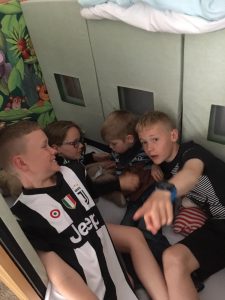 During half term we had our friends the Peacocks from Whitley Bay to stay, I'd picked Helen and the kids (Charlie, Johnny and Katie) up from Nottingham and were travelling back when Kim told us Tobes was in a bad way with a prolonged seizure, it was a long, tense drive home and when we got here we found an unconscious Toby starting to stir.
At the sight of his 'marra's' (Geordie for 'mates') he went from dozy, drugged, exhausted to smiley happy and engaging. The kid is a miracle, as are Helen's kids who are so wonderful with Toby.
Speaking of which, it's almost four years to the day he came out of a coma, off life support and back into our lives after the most terrifying week of our lives, he did the same then, he was all smiles as if nothing had happened. He doesn't dwell in the past, he lives in the moment and he absolutely loves it, a lesson for us all maybe?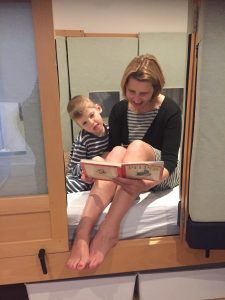 To keep our energy and spirits up we try to get away with friends and family regularly. This month I had a couple of nights away with my friends enjoying the gorgeous Malvern Show and Kim jetted off to beautiful Croatia for some respite with her sister, not even torrential the rains in Dubrovnik could dampen their spirits. This month we're heading off to Swanage for 4 nights respite while Toby has fun at Helen House. Hopefully next month we'll report that the weather forecast was wrong and the sun shone…
Thanks again for getting us this far, your support, encouragement and love keeps us going.