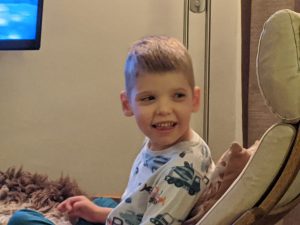 November has gone in a flash and I'm pleased to say partly that's down to Tobes being on better form and more importantly, sleeping better.
We've removed the padding (and the dreaded Velcro) from his bed which seems to have had the desired effect of him not ripping it off in the night so when he does wake up he settles quicker too.
As we mentioned in the last update, we were declined a few more hours to get some overnight care so we funded a couple of night via funds from Social Services and from Toby's Trust, we can't thank you enough for the gift of a couple of nights sleep.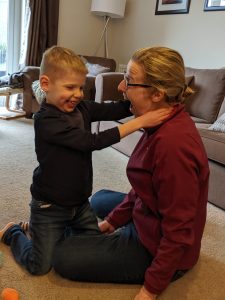 We've been using and testing the monitor that we purchased using the funds from Natasha at the Fitness Hub in Olney who did a whole fundraising event for Toby. So far it's proving accurate in that it's picking up seizures but more importantly not giving us lots of false alarms.
Sadly, some of the seizures it has picked up are long ones. We've noticed over the last month that Toby's seizures are going from 1-3 mins to 5-7 which is obviously a lot longer, have more impact on him and mean that we are giving him more rescue medication, which are administered after 5 mins.
One of these longer ones was at Nanna's birthday lunch with all her friends and family around. Everyone was enjoying eating and chatting and Toby was at the end of the table when out of nowhere he's in seizure, needing oxygen and rescue meds, it's always such a scary thing when we're out of our familiar environment and also not a nice thing for everyone else to witness. As it was a particularly long one we also started worrying about whether we need to call an ambulance.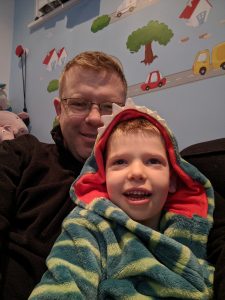 We had an appointment planned in Great Ormond Street a few weeks ago on a Tuesday. On the Monday Tobes wasn't quite himself but went into school. I had a call around lunchtime saying they were really worried about him as he was completely lethargic and not at all himself. So went in and picked up him, he did look terrible so we told GOSH we'd probably not bring him the following day, but either Kim or I would just go.
I got him home, he had a massive sleep, ate some dinner, slept again and then was as right as rain the following day for GOSH. He was such a smiley happy little boy, so different from the day before and once again showed us what a miracle he is as he just bounces back so quickly.
The big event in November was obviously Toby's 6th Birthday!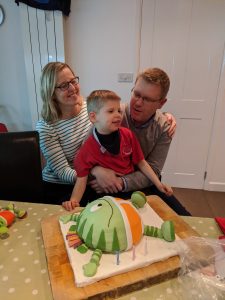 He's growing up and getting bigger every week it seems but birthdays are always a real milestone, he still has no understanding what one is, about presents, about celebrating but he does like cake so that's a win. Keeping with the annual tradition of making a dome birthday cake, Kim made an alien cake based on a character from one of his favourite books Aliens Love Underpants.
School were fab as ever and took his whole class into MK to see the Christmas decorations outside John Lewis, he was happy crawling around (straight to Costa, he gets marshmallows there in Olney so obviously recognised the branding!) when out of nowhere a seizure hits him and his convulsing in the central shopping arcade. His class were brilliant, as always, getting him out of his wheelchair (that doesn't recline), lying him on the floor in the middle of the shopping centre, administering oxygen and keeping him safe. They really do have to go above and beyond in their jobs.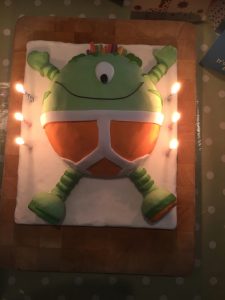 It's such a shame that over stimulation, lights, people, new places all trigger seizures and it's just too much for him. His school are so brave to do these trips when they know the likely outcome.
Pleased to report that the rest of the day was pretty chilled and involved cards, presents, his grandparents and cake so all ended well.
Thank you as ever for being our support in this journey with Toby, everything you do is fantastic, we're incredibly lucky, have a wonderful Christmas and we'll see you in the new year.