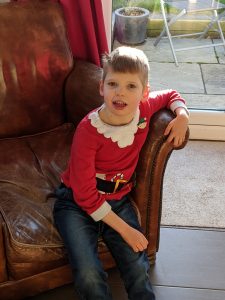 Happy new year to you.
I hope you have had a lovely time over Christmas.
December is often a mixed bag for us and this one was no different.
Throughout the month we saw friends, had Christmas "dos", a night away with friends whilst Toby was in Helen House, nights out, a fantastic Geordie wedding and Christmas celebrations with our families.
To me the lead up to Christmas is very poignant as it highlights the differences in our lives to others. Toby has no concept of Christmas or the excitement around it (probably a good thing as excitement is a seizure trigger) so we don't do so many of the things we could to make it special for him, no trips to see Father Christmas, no ice skating or looking at the pretty lights, no mince pies for Santa, he just isn't interested and doesn't understand.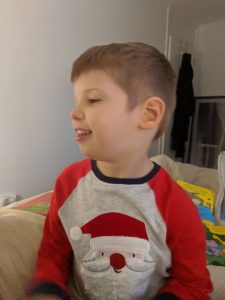 One celebration that we were honoured to take part in was the Christmas Lunch at The Redway School where Toby goes as a thank you to Kim for all her work for the school along with her team of volunteers from Sainsbury's Argos who have done loads of painting, gardening and other odd jobs around the school.
We're fortunate that we know quite a few of the staff at school so it feels very welcoming anyway but once we were in the decorated hall with (half the school) kids and all the staff in Christmas jumpers serving the turkey it was magical. Noisy and chaotic but lovely!
The one thing that struck me was how much love there was in the room, all the teaching and support staff at the Redway go way beyond with their care of the children who all have complex needs and their pure joy is obvious for anyone to see. It's such an incredibly special school, we're so lucky Toby is part of it.
As I mentioned earlier we had a brief visit to Newcastle the weekend before Christmas as it was one of Kim's school friend's weddings. It was a logistical challenge to get there and back in 36hrs, while Toby was cared for by the wonderful nurses and carers from our agency, but it was so so worth it. We had a wonderful time with our gorgeous friends and it was really good for the soul.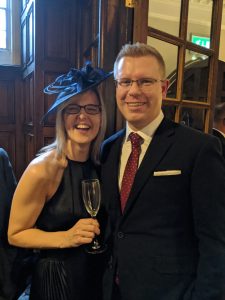 With the help of Toby's Nana who enabled us to leave at 6.45am, Toby was then at home with a relay team of nurses and carers from Amegreen. They know him so well and manage everything he needs and throws at them, including the seizure not long before we walked back in the door.
It's always a sad moment to walk in and find Toby unconscious and someone else looking after him.
Sadly the next few days were pretty rubbish for Tobes, one or two seizures a day but no obvious triggers or cause. We were getting very tense and so on Christmas eve postponed our plans to go away to Kim's sister Karen's and quickly legged it to Sainsbury's to buy a turkey.
This was the first Christmas we've spent on our own, usually spending time with family, it was a little odd but the right thing to do as Dravet gave Toby a break for a day and we had a nice day just 'being'.
We did make it up to Karen & Andy's on the Welsh border on Boxing Day to see the progress on their beautiful house, they'd worked so hard to get it ready for when we arrived, and it's looking great. We had a couple of days enjoying the wonderful views and their hospitality. We were so well cared for, they even gave up their bed and slept in their caravan to accommodate us and Toby.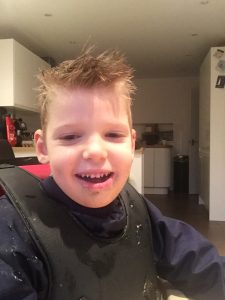 Toby didn't have any seizures while we were there, thank goodness, but that doesn't mean he's any easier to look after. There is always someone within arms distance or usually holding him, singing to him or trying to entertain him, it's pretty exhausting being out of our own environment.
Although Toby doesn't have any concept of Christmas, he was very lucky and got showered with lovely presents from family, friends and neighbours, from lovely PJs, tops and coats to wonderful noisy plastic toys and hand puppets to entertain him. We're so grateful to you all.
After a lovely meal with Nana, Grandpa and Granny Gill across the road, it was back to work the following week in that weird period between Christmas and New Year when no one knows what day it is. It struck us that sadly Toby's illness doesn't take a break for the festive period so our days are very much like any other day. Maybe one day he'll become more aware and be able to enjoy some of the magic of Christmas that kids love.
We had plans for us all to go up to Worcestershire to spend new years eve with friends but by this point we had all come down with colds and the thought of managing Toby away from home again was too much. In the end Kim and Toby stayed at home whilst I went over to see everyone, as it turned out Toby had a seizure whilst I was driving over so it was definitely the right decision. (I've just realised on my spreadsheet that it was Toby's 700th fully convulsive seizure, not really one to celebrate but it gives you an idea of how many he has)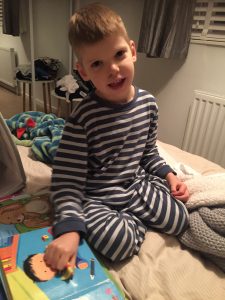 The making and then cancelling of plans and missing out on precious time with family and friends is something we find very difficult but it's inevitable when dealing with the unpredictable nature of Dravet. We're incredibly lucky that our family and friends are so understanding and are always accommodating. Thankfully despite the many cancellations they keeping inviting us to places and events. I know we don't always make it, we often say 'no' but it really does mean the world to us that they stick with us, so please keep inviting us.
New Year, no resolutions other than to be grateful for everything we do have, you lot in particular! Wishing you all more ups than downs this year.