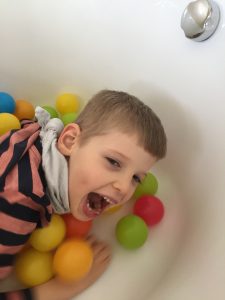 At the end of March we all became ill with symptoms of Covid-19, the first few days were a blur as we tried to look after a seizing Toby who we'd deliberately knocked out with lots of drugs to try and stay out of hospital, all the while we felt rubbish too with fevers, aches and fatigue.
The first couple of weeks of April went by in a haze, Toby got better pretty quickly and we were able to wean his meds back down while we got by day by day with no chance to rest or recover when looking after a Toby and trying to work.
In the end I had to take time off ill and then Kim put her back out, we were in a real hole physically and mentally however the love, support and kindness of others got us through the rest of the month until we began to form some semblance of normality towards the end.
So many people have done so much for us, from messages, calls, treats, shopping, flowers, delivery of pain relief gel, collecting drugs for us, meals, bits of shopping from online shops, box of pasties, there so much to mention.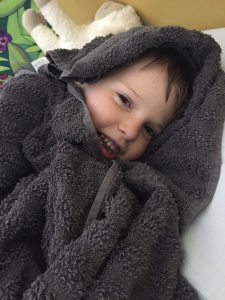 We really feel very privileged to be surrounded by such generous, thoughtful and kind friends and family.
This was highlighted at the very end of April as it was Kim's birthday, so many people took the time to get in touch, send cards, gin, flowers, gin, gifts, gin, chocolate and even hand delivering flowers and good wishes.
The generosity continued when Kim set up a Just Giving Page for Helen House to contribute to the '2.6 Challenge'.
The Challenge came about as for many charities the London Marathon is a massive source of income which they were about to lose.
I'm sure you've all seen the challenges we've posted on this page, from eating 26 chocolate buttons to reading 26 books, popping 26 bubbles and loading 26 items into the washing machine, They're all a little silly and a bit of fun and hopefully show what Tobes can do when he puts his mind to it, his exploits even made the papers in Oxford!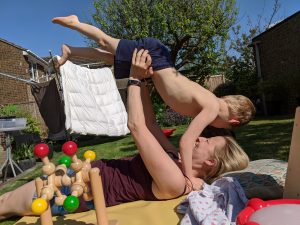 Incredibly Toby smashed the (what we thought was too high!) target of raising £500 to by raising nearly £3,000! This is such a huge number and we're so grateful to all of you for your generosity, Helen House are always there for us, we're constantly in touch with some the best doctors in the country who are giving us the very best advice, tailored to Toby, to keep him as safe as we can. Earlier in the month we were surprised one evening by a team member from HH turning up at our door with a hamper full of treats, toiletries, toys and books, they really do go above and beyond.
We are humbled and grateful for everything you do for us, especially you, the Olney Chocolate Fairy who has delivered smile and happiness several times now.
Thank you all.