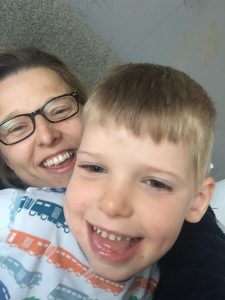 The eagle eyed of you will have noticed that there was no update last month, as I am sure it has been for everyone, lockdown has continued to be tough and quite frankly I'm not sure where the time has gone.
As we recovered from Covid-19 (confirmed antibody tests on all three of us in May) and with school not being an option, Kim took holiday from work in order to look after Toby so I could continue working as 'normal' which was good for me but not sustainable so in June she returned to work and we began to balance our diaries with looking after Toby, with help of his grandparents and the carers and nurses who were slowly being introduced back into the house.
We're very lucky that Tobes is a happy little chap most of the time and so good natured but he is so time consuming, you cannot leave him alone, at all, for even a second, he has no concept of danger or of his own capabilities.
For example one day I walked for 4 seconds from the kitchen table into the kitchen itself, by the time I'd turned around Toby had managed to get onto the chair that was slightly ajar, stood on it, facing backwards and had started rocking it, one second more and the chair would have tipped over with his face being the first thing to hit the floor. I covered those two metres in record time I can tell you.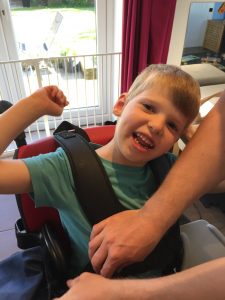 On another occasion Kim turned her back for a few seconds only to find him stood on the back of the sofa stretching up the wall and hanging off the high windowsills trying to reach for some bubbles.
For a kid who can't walk he's like an escape artist!
Like all of us, he's getting bored of being at home and seeking new places to be and new trouble to get into. His current favorite is in the (dirty) garage opening and closing the tumble dryer door or rolling the lawnmower back and forth.
Partly due to how tired we are, being with him is often exhausting and boring as the games, songs and books never change, although his cheeky little smile does make it easier.
His attention span is usually only a few minutes at best before he wants to move onto the next thing so before you know it you are chasing him around the house as he's trying to climb over the stair gate at the top of the stairs or has jumped into a bath that's got bleach all over it after he had a poo in the bath.
Once we were confirmed as having Covid antibodies we felt the risk of reinfection to us was low so we reinstated some care, one carer at a time which gave us a chance to get some rest and helped us catch up on some work as well as giving Toby a new person to interact with.
As the lockdown rules have eased a little he has also been able to see his grandparents again, who he adores and who'd missed him so much during lockdown. This has also been a massive help to us and has enabled us both to get back to work.
Like everyone we're missing the holidays and time out we'd booked, we were due to be in Majorca for a 4 night break next week (sob) but are now feeling there is little chance of a rest on the horizon as Toby won't be going back to school full time and there are no indications of when Helen House will reopen for respite.
This week has been particularly challenging as last Sunday Toby had two seizures through the day and then three through the night. He was almost as bad as when he had coronavirus but there was no indication as to why. Kim ended up in bed with him as every time we went back to bed he had another seizure. It's impossible to sleep due to the adrenaline and fear of how it will all end.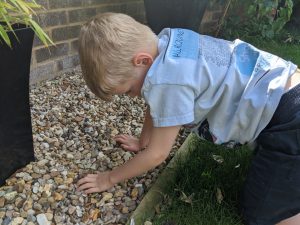 As you can imagine, Monday passed in a blur, exhausted but having to work while Toby was like a zombie, he literally didn't move or eat all day and we can only assume from exhaustion himself from all the seizure activity. Tuesday he was a bit better but we'd been vigilant through the night so were still extremely tired. It wasn't until Friday that we began to feel anything like 'normal'. Thankfully he timed his recovery perfectly to coincide with his Aunty Karen's 50th birthday celebrations with a day out at a National Trust property where he did us proud.
As we move into July we're all getting used to a new routine of us, grandparents and carers doing various shifts to keep a very active but bored little boy entertained. If the lockdown restrictions continue to ease we're hoping for a family trip to the seaside at the end of July. Watch this space!