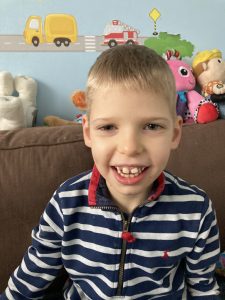 Happy new year!
Well, it's really about time we updated this page, so many of you have asked about Toby which is lovely so here goes with a latest missive.
The last couple of years have been weird for everyone, at the height of the lockdowns life was both challenging and monotonous in equal measure but over the last six months a semblance of normality has returned and life with Toby is its fun, challenging and intense rollercoaster that is predictably unpredictable.
He's enjoying being back at school, even though he's in a 'big class' now and has to do more 'work' than 'play', but there's still a lot of playing!
Toby now goes to school on a taxi with Jo and Stewart, a fantastic couple who love Toby like their own. It was a year long struggle to get a transport solution in place that met Toby's complex needs, but we couldn't be more grateful that Jo and Stewart are the ones who are taking care of him each day. He loves getting in the car with them as there are toys, books, bubbles and signing on every trip. They're absolute stars and thanks to their meticulous preparations and care they manage so well when he has seizures in the car, we know he's in the best hands when he's with them.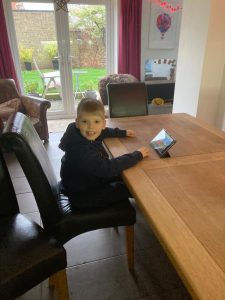 Seizure wise things are a little different, rather than about 4 fully convulsive seizures a week, mostly out of the blue, he can go for a week without a fully convulsive seizure but then has an intense 4 day cluster with multiple seizures in the day and night when we have to increase his medication to try and break the cycle. Sadly this takes it's toll on all of us.
The week before Christmas he was on the best form he has been for so long, so happy, able to concentrate and focus, sometimes even playing on his own, supervised, of course. Thankfully this coincided with our trip to GOSH.
Sadly however this all came to an end a couple of nights before Christmas, when he had two nights seizures, a seizure the following day, two on Christmas Day and another night seizure on Boxing Day night. As we were hosting Christmas dinner it was such a shame he was so unwell and not the happy and content boy he'd been the week before.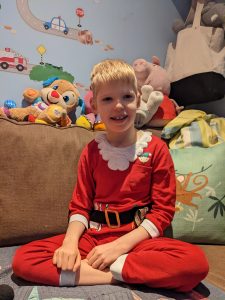 We were due to go away to see family for a few days on Boxing Day but as Toby was so bad I stayed at home to look after him and manage his seizures at home, not knowing what more was coming, and Kim had a short break to visit her family in Wales. I managed a night away a couple of days later in the Chilterns for a big walk and a chance to recharge my batteries. Thankfully Toby improved a few days later and we managed to take him to Wales for a night for a belated visit to see the family. I think we are learning to be more spontaneous!
It's definitely good to have a week without seizures, as you see Toby's strength, concentration and happiness grow as the seizure free days go by, then it feels like we're hit by a truck when the next cluster hits. It's exhausting, especially if it's happening through the night, it's not just the seizures but the fact he's then very unsettled for a few days after, not happy doing anything for more than thirty seconds, often the only respite for his brain is to sit in front of the washing machine and watch the spinning colours as a way to soothe him.
When there is a break in seizures Toby is such a happy, smiley chap, he loves interacting with people and everyone has their own little 'job' that he's taught them. For a kid who is pre-verbal he's excellent at getting people to do what he wants.
He's also really physical and loves nothing more than rough and tumble and being thrown around which is all well and good but he's getting to be a big lad now so picking him up is getting harder!
2021 was an incredibly difficult year for us as a family but it also marked an incredible milestone for Toby. He learnt to walk unaided. We couldn't be more proud of him. He's still unstable on his feet and his strength and control depends hugely on how many seizures he has had, but seeing how much he wants and enjoys being on his feet is fantastic. It still surprises us when he just appears through a door and walks towards you.
Toby may be getting bigger but he's still a skinny thing and that's not through the want of trying to get some meat on his bones. He has three large meals a day, all of the same size portion that I'd eat and it's all good healthy stuff, no pizza and chips for him it's all lentils, veg and curry, he does love a curry or a roast lamb dinner.
The latest big news for us is that he's due to start a trial in January in Great Ormond Street of a revolutionary new treatment for Dravet Syndrome.
You probably saw the post a few weeks ago when we had a day in GOSH screening for the trial, it's a new gene therapy treatment (Admiral) aimed at treating the cause of the seizures, the first thing ever to do that. It's exciting and ground-breaking and something that the Professor we see in GOSH never thought she'd see in her lifetime.
It's going to be very intense, with days on end in GOSH (difficult with Toby to say the least), general anaesthetics and lumbar punctures however getting in at the start is so important when it could be the next thing in treatment for Toby.
We'll keep you updated how that goes and try and be better with the updates this year!